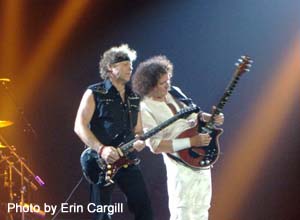 Jamie Moses & Brian May perform Last Horizon
Duluth, GA - 07-Mar-06


How did you initially become involved with the Brian May Band?
My old friend Spike put me forward when Brian decided to put the band together back in 1993.
It's well known that many die hard fans followed Brian on the Back to the Light & Another World tours, and then the Queen + Paul Rodgers tour. Did it suprise you how dedicated some Queen fans are?
Yes it did, they're a great bunch of people and very loyal. Thanks for all the support..
Did it suprise you to see how many younger fans Brian May and Queen have?
Yeah, we were amazed at how many young faces we kept seeing. It seems that new generations of Queen fans will just keep coming.
Do you presently have any solo projects lined up?
Not in the immediate future but I do have gigs lined up with the other bands I play with like Los Pacaminos with Paul Young and the World Famous Red Sox. I'm also involved with a project called "
Hiding In Public
" where I sing and play guitar. Check it out on the iTunes Music Store.
Do you think that we will ever see a Jamie Moses solo album?
It's something I did start working on but it's gone on the back burner for now as the past 2 years have been so busy. Maybe one day I'll finally get round to finishing it…watch this space!!!
Who do you consider to be your musical influences?
Hendrix, The Beatles, Joni Mitchell…
If you could work with any artist who would that be?
Hendrix but sadly that will never be.
What was it like working with Freddie Mercury?
I only played with Fred once at a charity show at the Coliseum in St Martins Lane, London. We only spoke briefly during rehearsals but he seemed to be a lovely guy. He was an amazing talent, that's for sure.
What would you consider to be the highlight of your career so far?
The 46664 shows have all been amazing and the Queen + PR Hyde Park show last year was quite a buzz.
Are there currently any plans for another SAS Band album?
Not at the moment but maybe we will one day, who knows.
If you could have picked a Queen song for Queen + Paul Rodgers to play what would that be?
Killer Queen
What Queen song do you enjoy playing most in concert?
Under Pressure
What type of guitars did you use during the Queen + Paul Rodgers tour?
A Brian May guitar, various Fender Stratocasters, Gibson Les Paul Standard, Gibson J45 acoustic, Guild 12-string acoustic, Flames custom made electric.
Did you find a difference in audiences from country to country?
Not a great deal, but usually the more hip the city, the more reserved the crowd.
Was there a sense of nervousness within the band about returning to North America after a 24 year absence?
We didn't really know what to expect but in the end we did get a fantastic reception.
What would you consider to be the highlight of the North American Queen + Paul Rodgers tour?
The Hollywood Bowl show.
Do you see a future for Queen + Paul Rodgers?
I think so, we've been so well received everywhere we go. Who knows what will happen, let's hope there's plenty more to come.
For further information about Jamie Moses please visit his official
website
.