From Queen Archives: Freddie Mercury, Brian May, Roger Taylor, John Deacon, Interviews, Articles, Reviews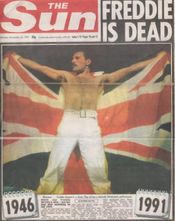 Rock Star Freddie Mercury is dead - just two days after confirming he had AIDS.
The 45-year-old gay star's parents were at his side as he slipped away late last night.
Freddie's doctor and close friend Gordon Atkinson was also with the Queen singer at his £4million mansion. Dr Atkinson made three separate visits yesterday to the house in Kensington, West London. After the second he said "Freddie has slipped a bit and I shall be staying."
Just before midnight the star's spokesman Roxy Meade said: "Freddie died peacefully this evening. His death was the result of broncho-pneumonia, brought on by AIDS."
Showbiz stars were stunned after Freddie announced on Saturday that he had the killer virus. DJ Tony Blackburn, who has lived next door to him for five years said: "All I can say is that I am very, very sad."
Former Sun columnist and music expert Jonathan King said: "Everyone has suspected it for a long while but we all hoped the rumours weren't true."
"Freddie was without doubt the most outrageous star that rock ever produced. We could badly do with more like him now, On stage and record he could be stunningly tacky but do it with class and style like no-one else."
Status Quo's Francis Rossi said: "I'm shattered. I think we all feared it might be coming but when it does what can you say? It's sad."
American rock queen Cher, whose backing group dancer Peter Tramm died from AIDS last week, said: "Oh my God. I'm devastated. It's a huge shock."
Bananarama star Sara Dallin fought back tears and said: "He has always been my favourite performer and I'm very, very upset."
Freddie shied away from all publicity in the past year. Queen's last single 'The Show Must Go On' was almost an epitaph for the singer.
Outside Freddie's house, a lone fan had kept a vigil for the stricken star. Father of three Ray Strotten, 31 of Worthing, Sussex said: "He has been a hero of mine for 17 years. Not a day goes by when I don't listen to Queen."
A private cremation is to be held later in this week.
The King Of Queen
He made band a supergroup worth £100million.
Freddie Mercury was an outrageous, over-the-top character, extravagant and generous with money - but he never forgot the time he lost it all.
He was born on the isle of Zanzibar in 1946 and his early childhood was spent in luxury at his parents' mansion in Bombay, India, during the last days of the Raj.
Freddie and his sister Kashmira were treated like royalty by their servants. But the privileges vanished overnight for Freddie at the age of 14 when his father Bomi Bulsara, a British government accountant, was transferred to England. The family were forced to move into a semi-detached house in Feltham, Middlesex.
Freddie vowed that one day he would have it all again. He was an outsider from the beginning the butt of cruel jibes because of his colonial accent and Persian origins.
He left school with three O Levels in History, Art and Geography and an A Level in Art.
Smile
Defying his parents he went to Ealing College of Art in West London, which spawned rock greats such as The Who's Pete Townshend and Rolling Stone's Ronnie Wood. It was there he met two students who were to change his life - guitarist Brian May and drummer Roger Meddows Taylor. Freddie was singing with two blues bands, Sour Milk Sea and Wreckage and left them to join May and Taylor's outfit Smile.
In 1969 he graduated with a diploma in graphic art and design and set up an art and fashion stall with Taylor in London's Kensington Market. It gave them the excuse they needed to dress in high-camp clothes they loved and which Freddie became famous for.
When Smile broke up, Mercury formed a new band with May, Taylor and a bassist called John Deacon. Queen was born. Their first concert was at Hornsey town hall in Essex in February 1971 in front of 300 people.
Queen first hit the charts with Seven Seas of Rhye, which reached number 10 and the follow up Killer Queen, which made No. 2 in 1974. Freddie's inspiration brought the group their chart-topper, the operatic Bohemian Rhapsody. His experience in graphic design was behind the video which promoted the single and lauched the pop video industry.
And it was Freddie who remained the driving force behind a band which amassed a £100million fortune. Freddie himself made more than £25million. A stream of hits followed including Crazy Little Thing Called Love, Radio Ga Ga and I Want To Break Free. But It was the Live Aid concert at Wembley Stadium in 1985 which turned Queen into a Supergroup.
Even Elton John admitted later that Freddie had stolen the show with his exceptional ability to capture the crowd.
Legend
Freddie's reputation as one of rock's greatest showmen soared with the size and scale of the group's spectacular concerts in huge stadiums around the world.
Freddie became increasingly wild and flamboyant and his videos became more outrageous. The fun didn't stop on or off-stage. Freddie was the anything-goes host of a never-ending party.
Freddie boasted: "I'm simply dripping in money, darling. It's vulgar but wonderful. All I want from life is to make lots of money and spend it."
A shadow fell over Freddie's life when his former manager Paul Prenter revealed that two of his ex-boyfriends had died from AIDS. In 1989 Freddie had an AIDS test which proved negative but concerns for his health grew. Colleagues insisted he was 'Fit as a fiddle' but he looked gaunt and frail. His weight plummeted from 12st to 9st.
Thrill
Towards the end, he was rarely spotted out in public. To the public the rare photographs of him outside made him look a sad, haunted figure, no longer able to enjoy the lifestyle he craved.
Tragic Toll of the Showbiz Plague
Stars pay tribute as AIDS claims Freddie
Showbiz stars were stunned last night after hearing that Queen star Freddie Mercury had died of AIDS. He was the latest victim of the disease which has taken a terrible toll of showbusiness and arts personalities.
Last night one showbiz insider said: "A lot of stars are Gay, Bi-sexual or promiscuous. This is just the tip of a tragic iceberg.
Freddie, 45 had become a recluse in the last few years - losing weight and shambling in his rare public appearances. Princess Diana who has begun a crusade to help AIDS victims was said to be 'very upset' by the news.
A friend said: "The princess is a great fan of Queen. I am sure she will send a message of sympathy."
Phil Collins said: "This is a tragedy. I had the greatest admiration and a lot of affection for him. But if you go around leading a pretty much promiscuous life as he did then you always run the risk of AIDS."
Freddie's former personal manager Paul Prenter lifted the lid on the singer's lifestyle in The Sun four years ago. Prenter who died from AIDS two months ago claimed his one-time boss slept with hundreds of men, partly because he was terrified of sleeping alone.
Lovers
He lavished expensive gifts on his lovers - diamonds, Mercedes cars and money. Prenter said: "It was more likely that I would see him walk on water than go with a woman. Freddie told me his first homosexual relationship happened when he was at boarding school in India when he was 14. While we were touring there would be a different man every night, He would probably go to bed by 6am or 7am - but rarely alone."
"He has a fear of sleeping alone, or even being alone for long stretches." Prenter said Freddie phoned him after airline steward John Murphy, a one-night-stand died of AIDS in 1987 and admitted. "I'm afraid I could die of AIDS."
Fortune
The manager claimed AIDS also killed another one of Freddie's lovers - courier Tony Bastin. Despite his hundreds of male lovers, Freddie is expected to leave his fortune to a woman - his one time girlfriend Mary Austin.
He once said: "The only friend I've had is Mary. She will inherit the bulk of my fortune. No one else will get a penny, except for my cats Oscar & Tiffany."
Freddie and Mary lived together for seven years until 1980 when the relationship broke up due to his increasing gay urges and the pressure of his fame. But he kept in touch with her because she was the only person he really trusted.
He said: "I don't want anybody else. Over the years I have become bitter and I don't trust anybody else because I have been let down so many times."
Freddie showered gifts on Mary including a £600,000 house just around the corner from his own. When she gave birth to a son in February 1990 he was the automatic choice as godfather.
Freddie Said: "Our love affair ended in tears. My life is extremely volatile and someone like Mary couldn't cope with it. Success has brought me millions and world idolisation, but not the thing we all need - a loving relationship.
Not Scared of Dying
Freddie once revealed he was not afraid of dying because he had 'lived a full life.' The tragic singer once said: "If I'm dead tomorrow I don't care a damn I really have done it all."
Four years ago he had predicted: "I don't expect to make old bones, What's more, I really don't care I certainly don't have any aspirations to live to 70 - It would be boring."
Freddie cleaned up his love life after several pals died of AIDS. He said: "I was totally devastated when I heard about my friends who have died from AIDS, it brought the seriousness of the illness home to me. When you're young it is so much harder. I was thinking the other day - We're lucky we've sown our wild oats - but they are just starting. It is something the young have got to get to grips with."
He added: " I used to live for sex. Amazingly I have gone completely the other way now. It has changed. I have stopped going out and have almost become a nun, I was extremely promiscuous but I have stopped all that. I don't miss that kind of life."